A warm summer's day, at one of the sport's most demanding circuits, and some softer tyres was all it took to knock the Mercedes juggernaut off course at the 70th Anniversary Grand Prix.
The two black cars that had looked unbeatable in the first four races of the season suddenly did not look so special. Their high performance became their Achilles' Heel and they tore their tyres to shreds around the high-speed sweeps of Silverstone.
If anyone was going to benefit from a situation like this, it was always going to be Red Bull's Max Verstappen, and the Dutchman turned in one of those days when he looks irresistible.
Give Verstappen a sniff and he locks onto it like a pit bull. Early in the race, his team were warning him to be careful of his tyres as he homed in on the Mercedes in front of him.
"Mate," he replied to his engineer Giampiero Lambiase, "this is the only chance. I'm not backing off and driving like a grandma."
He kept pushing, of course, and the race surrendered to him, as Mercedes' tyres fell apart. And the result was one of the most unexpected victories for some time.
Whether this turns out to be Red Bull's only chance to beat Mercedes remains to be seen, but it's certainly the case that a perfect storm of circumstance emerged to make a team that had been threatening to win every race this season suddenly look vulnerable.
"I enjoy the situation," said Mercedes F1 boss Toto Wolff, "because everyone said it would be a walk in the park for Mercedes and it wasn't a walk in the park. We didn't have the quickest car and maybe not even the second quickest car."
A classic Red Bull win – but not just that
This was a top-drawer drive from Verstappen, but one that caught him by surprise. "I didn't expect that," he said, as he sat down for the post-race news conference.
It came about as a result of the decision by Formula 1 to ask Pirelli to supply softer tyres, in the hope of making this second race in a week at Silverstone different from the first. In the context of spicing up the action, it was an inspired call.
Pirelli's tyre range was not only one step softer throughout this weekend, but the allocation was dictated by F1 rather than the teams choosing.
In addition, after the failures at the end of the British Grand Prix, Pirelli stipulated higher minimum pressures. And the ambient temperature was a few degrees warmer than it had been the previous week. The combination was too much for a car with the performance of the Mercedes.
"We had indications in the past that our relative gap was not as large when it was hot," said Wolff. "[But] it is a little bit simplistic to just say it's hotter.
"It comes down to the fact we have a car with high downforce. And when conditions change, parameters change, temperatures going up, compounds getting softer, pressures going up, we have to acknowledge that the Red Bull is a pretty fast car and that is what we have seen."
Red Bull's race was founded on a decision to use the hardest tyres in qualifying, the only team to do so. This allowed Verstappen to pressure the Mercedes in the early laps, run longer than them and the team to adapt their strategy thereafter to ensure they kept control of the race.
It was a classic Red Bull victory – a great driver and a team light on its feet and fast and inventive in thought combining to winning effect.
But it wasn't just about that. The fact was, the Red Bull, in Verstappen's hands, was simply a faster car on the day. Even Red Bull were flummoxed by that.
The team have struggled at the start of this season, an aerodynamic inconsistency in the car making it hard both to drive and to find the sweet spot of set-up. But on Sunday it displayed the promise Red Bull always thought it had.
"This car has put a little bit of a fight up so far," team boss Christian Horner said, "and it's only today we have seen the performance we believe it is capable of.
"We need to understand why the car has performed so well in corners that on Saturday were a weakness. On Saturdays, we are fighting for 10ths with Racing Point and Renault, and then lapping them today. We have a lot to understand but it is encouraging."
"I think it's great," Hamilton said. "I want to have races where they're challenging like this. I am excited to watch this race.
"The Red Bull has been quite close in race conditions to us and today stronger. It will be interesting to see the progression through the rest of the year and I will definitely not overlook them. We have to keep a close eye on them and working to push forwards, it will not be easy by any means."
Despite Mercedes' four straight wins at the start of the season, Wolff insisted that Verstappen, who moved ahead of Bottas into second place in the championship with his victory, was in the title fight.
"For F1 it is very exciting and also for us as a team," he said. "We embrace the challenge and love to fight. They are a strong competitor and Max is a very good driver.
"If you consider they had a DNF [at the first race of the season]; without that [Hamilton's lead] would be five points not 30.
"We are up for a fight and it looks like it could be a tough season between the three of them. I wouldn't write off Valtteri. There are maybe 10 more races to go. DNFs can quickly make a points swing and it could be much more interesting than many people were afraid of two weeks ago."
F1's tyre conundrum
Part of the explanation for Red Bull's victory was that Mercedes were simply tearing the softer tyres apart in warm conditions around a track with an abundance of long, high-speed corners, whereas the Red Bull was not.
And this exposed a fault line in F1 with regards to the tyres it uses.
Pirelli has erred on the side of caution with its tyre selection recently, partly because it does not want to be criticised for supplying tyres that go off too quickly.
This has led to races in which teams make only one pit stop, which can be predictable to watch. The problem is that if Pirelli supply softer tyres, to ensure there are more pit stops, the drivers have to back off their pace to manage them. And the drivers don't want that, they want to be able to push hard throughout. And sometimes the races end up being one-stop anyway.
Combining a tyre that can be pushed hard with races that have more than one stop is a conundrum Pirelli has so far not been able to solve.
Hamilton said: "We've come here with soft tyres, which has made the racing more exciting.
"Part of me doesn't want to propose we go with softer tyres moving forwards because we might be in this position again, but ultimately one-stop sucks. We should never be doing one stops. It has never been good watching as a fan. It makes it more exciting when there's more."
Verstappen added: "If you can find a way of doing two stops with nice tyres – in general, nobody likes managing tyres throughout the race, we want to push – that would be great."
Can Verstappen do it again in Spain?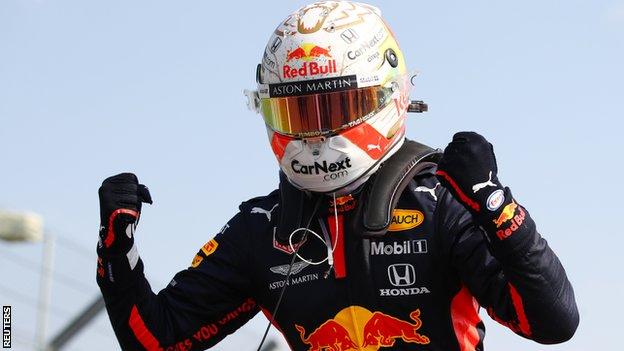 This F1 season is moving fast, and the teams are in action again at the Spanish Grand Prix this coming weekend.
The Circuit de Barcelona-Catalunya is another track like Silverstone with long, high-speed corners that put a lot of energy into the tyres. And temperatures are forecast to be slightly hotter than they were on Sunday.
That could mean Red Bull are in the frame again. On the other hand, the tyre selection there will be the three hardest compounds available – as it was at Silverstone a week ago, when Mercedes dominated.
Verstappen said: "We just need to be happy but also to be realistic. We are still lacking pace in qualifying quite a bit so we need to sort that first as well.
"Of course we go back to harder tyres in Barcelona and on the harder tyres we are still quite a bit off, so I don't expect miracles there. It is a harder track on tyres but with these hard tyres you can push quite a bit.
"To fully close the gap will be very hard. Just today we were very good on tyres. When we go back to conservative tyres everywhere – most of the tracks we are doing a one-stop – it will be a bit harder for us. And then nobody has blistering that severe and you don't need to manage as much as we did today.
"Let's just enjoy this and then we will see again in Barcelona where we are."
Source : BBC